Professional, knowledgeable and customer-friendly heating and cooling service. That's what Kapaun & Brown Inc. has offered homes in Marshalltown since 1974. Our motto is, "Where quality is a promise." And that's what we strive for every day.
That dedication to quality is in the work our fully trained staff provides for you and your home—from the first call to our office to the final handshake after completing the job. We're committed to getting your needs met quickly and correctly, 100 percent of the time.
As a Lennox Premier Dealer, you can count on Kapaun & Brown to offer innovative, high-end Lennox®HVAC products that run more efficiently and more reliably than the competition. Our technicians are up to date on the latest equipment and repair technology, which means they'll have your home back to peak comfort in no time.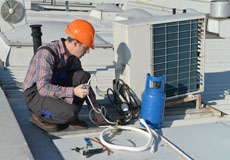 Whether it's the latest geo-thermal solutions, water heaters, fireplaces, generators or HVAC products, Kapaun & Brown Inc. keeps energy efficiency and your budget in mind. We exceed expectations. We provide reliable, affordable quality services and make a lasting impression through friendly customer service.
Your whole-home comfort is our top priority. That's why we offer seven-days-a-week service on all makes and models of heating and cooling equipment—except the five major holidays.
Find out what so many others in Marshalltown already know, and let Kapaun & Brown redefine what heating and cooling service can mean to you. Give us a call at 641-812-2028 or schedule an appointment online to learn more.